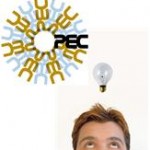 Yesterday I was once again reminded of something I read in a book by Dale Carnegie: "91% of customers say they give referrals yet only 11% of salespeople ask for them."
One of my clients said they were really happy with what we had done and that they were going to refer us to their business networking group. And I asked myself, "self, when was the last time you asked for a referral?"
Quick rap on the forehead, and then a postit note saying "Ask for a Referral" placed on the monitor. Such a small thing that can have really good results.