Lifehacker.com says, "Mind mapping is one of the best ways to capture your thoughts and bring them to life in visual form."
Mind mapping allows you to capture your thoughts or those of a group in a very unstructured way and then tie those thoughts together as you go along. It is great for brainstorming ideas without the structure of outlines and notes. According to Tony Buzan, "A Mind Map is a powerful graphic technique which provides a universal key to unlock the potential of the brain. It harnesses the full range of cortical skills – word, image, number, logic, rhythm, colour and spatial awareness – in a single, uniquely powerful manner."
Many people understand concepts and remember things better when they look at things graphically rather than textually. Mind mapping can be used to document a project or for something as simple as map out a to-do list.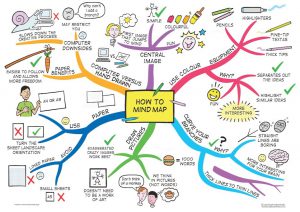 If you aren't already mind mapping, here are some compelling reasons to start:
Clear your head! Brainstorming through mind mapping allows you to quickly get ideas out of your head – or your team members' heads - and onto paper so that you can manipulate them into a cohesive plan or useful outline.

Take your meeting notes up a notch. With a mind mapping tool you can easily draw relationships between topics, highlight the items that are of most interest, assign tasks to people or teams, and much more.

Decrease double entry. With the right solution, a mind map can be shared with MS Word, Evernote, OneNote, Skype, Twitter, PowerPoint and other programs to decrease time spent on re-entering the same information in different programs.

Impress your clients, prospects and co-workers. A mind map with color and images has more "wow factor" than a plain outline or check list.
There are numerous mind mapping tools on the market. We, at Patricia Egen Consulting use to quickly and easily record our ideas and work flow as we work on project analysis and design. We like it so much we also sell it! MindMap is pretty easy to learn and comes with several output options, color schemes and graphics. If you are interested in learning more about ConceptDraw MindMap and the other project tools available, give us a call or email This email address is being protected from spambots. You need JavaScript enabled to view it.. Happy mapping.