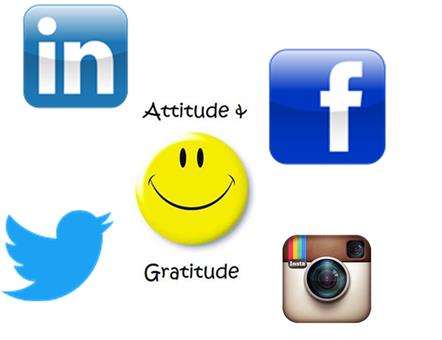 Our newsletter theme this month is giving thanks (appropriate with November right around the corner). Each of us was challenged to create an article about gratitude, thankfulness, and how to say we appreciate our customers. Since I love social media, I decided to focus on that and how it can help you engage your customers and provide a way to say thanks.
Companies talk all the time about maintaining loyalty from their customers but I think they tend to forget it's a two-way street. Yes, ask for their support. But what, besides your product, do you give back in return?
Social media gives you an excellent platform to be reciprocal in giving back. Here are some ideas.
As a good company you should not only know what product your customer wants but also understand their business. If you see news about a customer, tweet it. Or post a link on your business Facebook page supporting their organization.
Saying thank you publicly is another way of promoting both yourself and your customer. Link to their website. Promote their brand.
So often social media is all about the bad and ugly. People go there to post their angst and disgruntlement. I choose to use it to promote good things as well. And to promote things I think of are great value.
The same can be applied to promoting good things about your customer interactions and your customer's responses. Make sure you follow them on Twitter, Facebook, Linkedin, Pinterest, etc.
SEO is closely tied to social media so putting yourself out there on behalf of both your organization and your customers is a win-win.
You can even use social media to put out specials or offers. Make sure they say they are to celebrate your customers and to give thanks. It's a great way to track how many people are actually reading your posts while providing an incentive to buy your product.
Sometimes it can be a simple as a quick tweet, thanking a customer for being "there" and providing a link to their website. Free advertising for them. Let's people know you care. What's not to like about any of this.
Your call to action is to go look into what your customers do and tweet about it. Find that special client who is always there. Tell them thank you publicly. Remember, when we were growing up we were told "what are the magic words?" They are still Please and Thank you!. Giving thanks publicly is a worthwhile gesture. It will make both you and your customer's week.