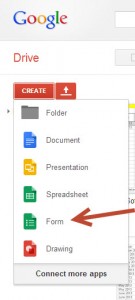 Google Drive is the new "Google Docs" where you can store and share spreadsheets, documents, PDFs, etc. One of the options I bet you haven't tried or noticed is the ability to create forms. These forms can be used to capture information that can be sent or stored on a spreadsheet. Surveys are a good way to demonstrate this capability. This blog article will get you started.
Google Forms can be used to help plan events, send surveys, give students a quiz, or collect other information. A form can be connected to a Google spreadsheet. If a spreadsheet is linked to the form, responses will automatically be sent to the spreadsheet. Otherwise, users can view them on the "Summary of Responses" page accessible from the Responses menu. You can create a form from your Drive or from any existing spreadsheet.
The ability to create forms on the fly and host them in a cloud environment like Google Drive is very effective.
First off, you need a Google account. Heck, you need one even if you are not going to create a form and share documents. So much is coming out of Google that the question is more of a "why don't you have an account." It is always a good idea to have another email that you can forward things to to view online or to use to track who is spamming you. I actually have several email accounts and one of them I use when I purchase something where I know I am going to get spammed.
To get started, logon to Google and click on the Drive menu item at the top of the screen. This will open up your Google Drive files.

Once you are on Google Drive, click on the CREATE button at the top left and select Form. You will see a dialog box that outlines the steps you will take to create your form.

You are going to be going through a couple of tasks. The first thing your are going to do is give your form a name and pick a template or theme for your form. I chose the Magazine template for my sample form and it looks quite nice. I have an example later in this blog article.

Next you will give the form a name and add questions or fill in the blanks. There is no limit to the number of fields you can put on a survey or form. Just use common sense.

Think about forms you have completed. Were you annoyed if there were 50 questions? So will any one using a form you create with 50 questions.

Keeping it simple is a good rule

of thumb and will help ensure people actually will complete your survey form.

You can enter a variety of form fields:

Text

Paragraph Text

Multiple Choice

Check boxes

Choose from a List

Scale - this type of entry field is "on a scale of

1 to nn" great for capturing a ranking.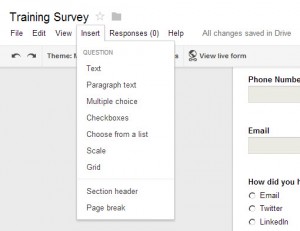 Grid - this creates a mini table in your form with rows and columns that people can check - like a radio button

Once you have completed your form you can design a confirmation message and even direct people to a specific page. You can send the form immediately. Or you can copy the link to the form and make it a part of a website or an email announcement.

When you save your form you can tell Google Drive you want the responses to go into a Drive Spreadsheet. You can then share this view with your staff or a group. The results can be exported to your PC so you can set up an email campaign or add the names to your favorite CRM.

This is how the form looks like from the Web.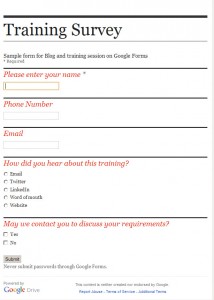 Kicking it up a notch. Embed the Form on a website
To get the code for your form so you can embed it on a website, click on File on the upper left menu, then EMBED and copy the HTML iframe line to embed in a variety of websites. My website is written in WordPress so I will show you how to embed a form on a Wordpress Page.
Open a new post or page in WordPress. In the content editing window, click on the HTML editing tab, not the Visual tab. Paste your form code you copied in the previous step. Publish the post or page to make your form live and enjoy the results.
Summary
If you are going to use Surveys extensively and want to add the contacts automatically, I suggest using Swiftpage. It is not free but has much more capabilities. However, for quick and dirty survey forms, this feature on Google Drive is quite nifty.