Got Windows 10? Act! Not Starting? Try this!
We have been getting quite a few calls lately from clients who are finding out the hard way that their operating system just got upgraded to Windows 10. Well isn't that nice? Microsoft is now making it happen automatically and many are getting caught of guard. What to do? Turn off automatic updates in Windows for one. If Windows 10 is here, then time to upgrade Act!. The latest version of Act! is designed to work with Windows 10 very nicely and includes some great features for web access.
"Well that's great, but we can't upgrade just yet. And I can't get into my Act! Now."
If you dive into the depths of the Swiftpage Act! knowledgebase you'll find plenty of articles talking about workarounds for the problems users are encountering with older versions of Act! and Windows 10. Not being able to open Act! is one we'll focus on here. For your situation, it may be a simple fix to get back in and back to your contacts.
Act! may not be starting because the ACT7 SQL Server instance may not be starting. Here's how to ensure it get's started.
Click on Start - Run and enter services.msc . When it is open scroll down and look for SQL Server (ACT7)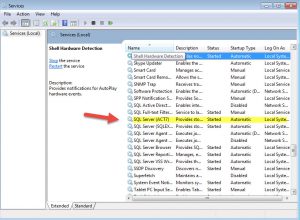 Right click it and go to properties. Select the Startup type to Automatic (Delayed Start).
Then go to the Recover tab. For the First, Second, and Subsequent Failure, set them to Restart the Service. Apply and then exit services.
I usually reboot at this point and then give it some time to fully load. You should now be able to get into Act!